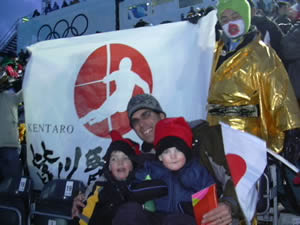 Nick and Max Williams chill out with Dad in front of Japanese ski-racing fans during the 2006 Winter Olympics men's slalom at Sestriere, Italy - a race won by Austria's Benjamin Raich.
By Kristin Kenney Williams
Raising young ski-racing fans
They may someday run off to join the White Circus
By David O. Williams
November 27, 2007 — It's a classic case of nature versus nurture.


Because it's inherently insane to stand on the side of steep, icy mountain to watch and cheer on ski racers, forcing your kids to do it with you must be a matter of "nurturing" them to become ski-racing fans. No way are they naturally born with such a predilection for perilous pistes.


And yet my son Nick's first-grade class at Edwards Elementary spent a day last year trudging up to the Birds of Prey World Cup races in sub-zero temperatures at Beaver Creek, intent on howling their support for Bode Miller, Ted Ligety and the rest of the U.S. Ski Team.


And Nick was genuinely excited about the prospect, requiring no amount of convincing from his parents. Similarly, we dragged Nick and his younger brother, Max, all the way to Italy in February of 2006 to freeze solid during the Olympic slalom, held at night no less.


Not even the chill temperatures, hopelessly snarled Olympic transport and surprising lack of kid-friendly amenities (silly me, I thought the Italians loved bambinos) elicited too many complaints from the boys – who by now must think this kind of thing is normal.


Perhaps as skiers since their toddler days they've grown to appreciate the nuances of the sport, which really is nothing but nuance, with Olympic medals decided by the tune of a ski, one wide turn, a gust of wind or flat light halfway through a run.


Whatever the case, the boys now seem genuinely enamored of the sport, and maybe it is in their genes. My folks hauled me up my first ski mountain as a fifth-grader at an American school at a U.S. Air Force base in Germany, where we were stationed at the time.


Our class held bake sales and car washes for weeks to raise enough money to head to a tiny resort in the Bavarian Alps, very near where the 1976 Winter Olympics – the ones rejected by Denver voters over funding – were going on at the same time in Innsbruck, Austria.


The seeds of skiing were forever planted during that uber-fieldtrip in Southern Germany and 15 years later led to me living near the resort conceived and built for the aborted Denver Winter Olympics: Beaver Creek.


If ski racing is a predominantly European obsession – and believe me, it is - Americans have at least made it more user-friendly, high-tech and more accessible. No resort takes that mission more seriously that Beaver Creek, which provides free shuttles up to the free races and pampers fans at every turn.


Another way to make the races even more meaningful with kids is, if they're old enough and good enough skiers, ski with them to the Pumphouse section of the daunting Birds of Prey downhill course. They can stand and watch in awe as Hermann Maier plunges off the abyss at 70 mph, although that likely won't be an option this season due to a lack of snow.


Or trying accessing the Red Tail Finish Stadium on snowshoes, something Nick accomplished in a backpack as a wide-eyed one-year-old. When they're a little older they can snowshoe themselves up a beautiful wooded trail to the races (more on snowshoeing with kids in a future column).


Make plans to take the kids to this week's World Cup races (Nov. 29-Dec. 2) at Beaver Creek. The experience may last a lifetime. Or, if you want to lose them forever to the Nintendo-ization of winter sports, take them to the Winter X Games in January in Aspen. They'll think they've died and gone to outdoor video-game heaven.


Comment on "Raising young ski-racing fans" using the form below