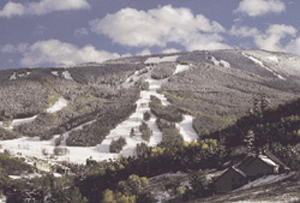 A guide to family skiing at Beaver Creek
By Tom Boyd
December 18, 2007 — Now that I've got little ones in my (extended) family I'm exploring Beaver Creek's beginner terrain all over again. Zooming around near the base makes for a nice, easy day for me and my little nieces and nephews, especially because it's a cinch to pop into a base-area restaurant for hot chocolate with marshmallows.


It can be cold out there for the young ones, so this year we're warming up in the new Buckaroo Gondola, which gives us a little over 3 minutes of warmth if we're having an easy day skiing the flat stuff near the base.


Sometimes, however, new family members want some big-time adventure, so we hop on Centennial lift and head toward the top of Beaver Creek, where brave kids can feel like they're playing with the big people. This doesn't mean that we're skiing steep stuff. In fact, The Beav' has a lot of green terrain for the little guys up at the top.
They especially like Jack Rabbit Alley and Mystic Island, where imaginative routes through beginner and intermediate terrain can set a young skiers mind alight. For quiet solitude and beginner terrain where a kid can be a kid, we cruise over to Arrowhead, where the little brave, Bear Paw, and Piece o' Cake runs make us feel like Native explorers of the Old West.


We also highly recommend ski school for youngsters. Ski instructors know how to make little games out of skiing – it's a kind of entertainment-meets-instruction philosophy at Beaver Creek, with a bit of nurturing added in the mix. I'm always surprised to find that children can often be very free of inhibitions, and after some instruction their little legs can take on just about any terrain – so long as they make a "pizza" shape with their skis, instead of the "French fry" shape.

Ski school is also the ideal place to make new friends … private lessons are nice for focusing on ski technique, but young ones may have a more interesting day meeting other children who, at Beaver Creek, come from all around the world.


Beaver Creek's world-class ski school has also added a visual element to its program – students can document the fun with a personal video to take home, or, for older youths, they can go on a mission and tackle 13 of the mountain's toughest runs in one day with the Talon's Challenge.


After the lifts close we usually stick around to check out the disco ice skating party and storytelling and s'mores around Beaver Creek Village's outdoor fire pits. Glowstick ski-downs, rail jams, fireworks displays, kids' tubing and figure skating shows keep us going until well past sunset. When I baby-sit for my brother and sister's children at Beaver Creek I find that there's way more to do in one day than we can handle, so we try to plan ahead and choose a few things we want to do – then we come back later for more. More than anything, we like to get together as a family and make new memories at our home-town resort.



Comment on "A guide to family skiing at Beaver Creek" using the form below