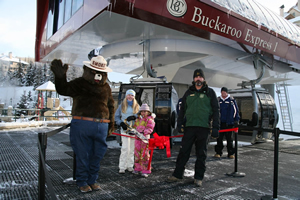 Snow ranger Don Dressler, right, is sort of a Smokey the Bear, left, on skis, who does his best to educate kids on the wild character of public lands in and around ski resorts.
Special to realvail.com
Smokey on skis a hit with the kids
Ski With a Ranger programs a good way to take a break, learn about the national forest
By David O. Williams
February 21, 2008 — There's a run in Vail's Game Creek Bowl named Lost Boy after a 14-year-old who in the 1980s mistakenly skied into the bowl before it was part of the ski area and wound up spending the night in a snow cave before being rescued the next day.


That accidental backcountry adventure had a happy ending, but it's a great reminder of how quickly things can go wrong on a seemingly safe ski day when the boundaries get blurred.


It is, of course, every parent's worst nightmare, and the last thing you think will happen to your child during the course of an in-bounds ski day at an established resort. My own son, Nicholas, then 6, got separated from his ski-school group last season and skied three runs and rode three chairlifts by himself before being reunited.


At the time I grilled him on emergency protocol, getting to a phone, finding a ski instructor, but I never really thought to talk to him about ski-area boundary ropes. He likes to ski trees. What if he had simply gone out of bounds like Vail's original Lost Boy?

Free ski area environmental programs
Aspen: The Aspen Center for Environmental Studies, which staffs several centers in the Roaring Fork Valley with volunteers, also offer ski tours at Snowmass. For a complete schedule or more information, call (970) 925-5756 or go to
www.aspennature.org/winter_programs.cfm
.

Beaver Creek: Ski With a Ranger tours meet at 1:30 p.m. on Saturdays at the Environmental Learning Center at the top of the Cinch Express Lift (pass required). Call or email Snow Ranger Don Dressler at (970) 827-5157 or drdressler@fs.fed.us. Or go to http://beavercreek.snow.com/wa.calendar.event.asp?eventid=1882 or call the resort at (970) 845-9090.


Copper Mountain: The next Ski With a Ranger programs with Dillon Ranger District Snow Ranger Shelly Grail will take place on Copper's Soliloquy run on Friday, March 7, and Friday, March 14. Call Grail at (970) 262-3484 or visit Copper Mountain's website at www.coppercolorado.com/todo/events/2007-12/Ski_with_forest_ranger.htm or call the resort at (866) 841-2481.


Keystone: The resort's Mountain Naturalist Tour start at the summit of Dercum Mountain and go down Schoolmarm run. The tours (Tuesdays and Thursdays at 11 a.m.) meet in the lobby of the Summit House and are led by Keystone environmental officers Dave November and Scott Fussell. Call (970) 496-4FUN or go to http://keystone.snow.com/info/mtninfo.env.awards.asp.


Vail: The Nature Discovery Center atop the Eagle's Nest Gondola is the highest nature center in the state, located in a yurt and featuring life zone displays, a scat drawer and a relief map of the central Rockies. The local Gore Range Natural Science School helps staff the center and also offers free snowshoe tours. Call (970) 754-4675 for hours and information or go to http://www.gorerange.org/discovery_center/index.html#2.

The other day I asked Nick if he knew where ski areas are located, on what type of land and what was outside those boundary ropes. He stared at me blankly, unsure of the environment surrounding him on any given ski day.


To him – and his 4-year-old brother, Max, who joined in the conversation – ski areas are more extensions of their developed, lift-served, safe and technologically wired world than semi-wild incursions into vast surrounding expanses of the natural world.


And Max and Nick are two kids growing up in a ski town surrounded by national forest. If they don't have a clue about the wildness of public lands, where does that leave kids – and their parents, for that matter – visiting from New York City, Dallas or Chicago?


Largely in the dark, says Don Dressler, snow ranger for the Holy Cross District of the White River National Forest, which hosts more skier visits than any other national forest in the nation. That's why Dressler launched the increasingly popular Ski With a Ranger program at Beaver Creek.


"This kind of started from a lot of those chairlift conversation I have with people when they see me in uniform and wonder why the Forest Service is at Vail or Beaver Creek," Dressler said, "and that's my opportunity to engage them in the discussion that the Forest Service permits the ski areas and it's our obligation to make sure the guests are getting what they deserve."

The vast majority of ski areas are on leased public lands, meaning they belong to every citizen of the United States. Those are the taxpayer's spruce trees, snowshoe hares, elk and surrounding majestic peaks, and Dressler is sort a Smokey the Bear on skis who can tell you how all of your stuff is doing.


Most Saturdays at Beaver Creek, the skiing public can join Dressler for a run or two on Red Buffalo trail to cruise along the forest boundary, look for animal tracks, identify different types of trees, chat about snow science, and maybe even talk about what's on the other side of those boundary ropes – and the consequences of going there unprepared.


Or pop into the Environmental Learning Center at the top of the Cinch Express Lift anytime to chat with Dressler or a volunteer. Children's ski school classes are more and more doing just that, says the snow ranger.


"Instructors can get a break and warm up for a minute, and as the kids sit there warming up, they can listen to a ranger and get some ecology and snow science and wildlife discussion and other stuff that kids tend to be interested in anyway," Dressler said.


The Beaver Creek program is one of many cropping up around ski country, including long-established programs administered by environmentally focused nonprofits at Aspen and Vail. The programs are mostly free, and a great diversion for kids who are way outside of their environment and in need of a quick break from the rigors of snow sports.


Who knows, what they learn might just come in handy someday.


Comment on "Smokey on skis a hit with the kids" using the form below