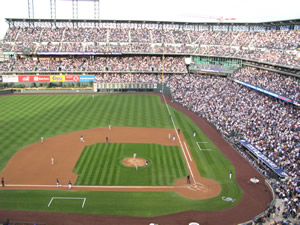 A memorable Memorial Day duathlon
By David O. Williams
April 30, 2008 — My family pulled off an interesting duathlon on Memorial Day last year, running in the Bolder Boulder that morning then catching a 1 p.m. Rockies game at Coors Field.

Based on the number of "Run to Live" T-shirts at the ballpark, we weren't the only ones who had the idea. But I daresay we had some of the youngest participants in what turned out to be a very memorable Memorial Day.

My oldest son, Nick, 7 at the time, was "running" in his first Bolder Boulder. He was eager to hang out with a ski-racing buddy from Summit County, Wyatt Cunningham. But Wyatt, a Bolder Boulder veteran, pulled away from Nick early on.

Running, baseball with kids
Pick a fun race with lots of distractions (like the 10-kilometer circus that is the Bolder Boulder).
Don't even think about your time, or especially your kid's time, until they're older, more fit and competitive. The key with young kids is to have fun and keep them interested in running.
Think safety first (dress them in bright colors for visibility and game plan in case you get separated, including pointing out race officials, designating a post-race meeting place and writing your cell number on their bib).
Think comfort a close second: good running shoes, plenty of sunscreen, a couple of Clif Bars and a baseball hat (but remind them not to chase after it if it flies off during the mass start - we nearly had a trampling).
Tips for taking toddlers to a Rockies game:
Bring toy trains, cars, coloring books or whatever it takes to occupy young minds during the monotony (some would say tension) of a potential pitcher's duel, although they're quite rare at Coors Field.
Get tickets under the first deck. Shade is key to keeping kids happy at the game.
Involve them in the action. Explain what's happening on the field.
Don't be afraid to take breaks and wander the concourse, even offering up the playground in left field as a reward for sitting tight.
If you're brave enough to bring an infant, taking them in a car seat so you can keep them shaded and let them sleep as needed. If it's the kind that connects to a stroller, you can check the stroller at the gate before entering. Small, fold-up strollers can be stowed under seats.
Bring some healthy snacks and juice but be prepared to spring for some cotton candy or a Rocky Dog to keep the peace.
Keep your eyes peeled for Dinger the Dinosaur.
Go to
http://colorado.rockies.mlb.com
and click on the Kids button for specials and kid-specific events at the ballpark.
Unfazed, Nick dropped back to mostly walk the rest of the race with his mom and youngest brother, then 5-month-old Rennick, who was happily snoozing most of the race on mom's back.

Meanwhile, I wantonly abandoned my family amidst 50,000 strangers to "go for a time" - meaning something in the sub-one-hour range, I hoped.

My wife and I used to do the Bolder Boulder on a fairly regular basis but had not run in one since 1999, or, coincidentally, about the same time we started having kids.

The event's understandable stroller prohibition and our pursuit of more kid-friendly Memorial Day Weekend entertainment such as camping and hiking had put the wildly popular 10K on the back burner for us for most of this decade.

I think we'll make it a new family tradition.
Rennick, with the exception of a couple of minor meltdowns, had no problem going along for the ride; my wife, Kristin, was physically fulfilled by toting a 14-pound tot 6.2 miles; Nick had an absolute blast, hitting all the water stations, rocking out to the odd assortment of "musicians" and generally amusing himself for 10 clicks; and I narrowly broke the sub-hour barrier.

After hanging out at Folsom Field for an hour or two absorbing the true meaning of Memorial Day - even Nick was impressed by a Korean War Congressional Medal of Honor winner, military parachute exhibition and supersonic jet flyover - it was off to Denver for the far more sedentary leg of the duathlon.

Still, we managed to witness something in some ways athletically more significant than elite Kenyan and Ethiopian distance runners in action and certainly something way more rare: a six-game winning streak by the Rocks.

Turns out having your kid go six miles before the ball gam' is a good way to get him to sit still for nine innings (or at least eight), and Nick's decidedly more docile demeanor likewise had a soothing effect on his then 3-year-old brother, Max, who skipped the road race in favor of a day with Grandma and Grandpa.

Max for the most part watched the game, perhaps too worried he'd miss a Dinger sighting to fool around overly much, and his big brother delivered numerous words of sporting wisdom such as, "All of our guys are really good, and all of their guys are pretty bad."

To which Max would solemnly nod his approval and Rennick would gurgle in agreement. And on this particular day, Nick turned out to be right, with the Rockies taking down the then world champion St. Louis Cardinals 6-2 and in the process winning more games in a row than they had since Nick was two.

Of course, history tells us they rode that streak for one of the all-time postseason pushes, which wound up putting them in the World Series. This season the Bolder Boulder Duathlon won't be possible, given the fact the Rocks are on the road that day. But keep it in mind for future Memorial Days.


Comment on "A memorable Memorial Day duathlon" using the form below