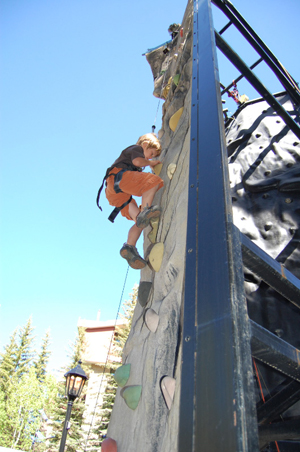 Kienan Hilmer, my nephew, navigates the kids' climbing wall (for the umpteenth time) near the covered Bridge in Vail during the 2008 Teva Mountain Games.
Photo by Cait Boyd
With kayaking, climbing, and more, Teva Mountain Games was a kid-friendly event
By Tom Boyd
June 10, 2008 — When I looked up, my nephew was thirty feet in the air, moving like a pint-sized Spiderman toward the top of the kid's climbing wall. By the time I took another bite of his birthday cake-flavored ice cream (which I was happily holding for him), he was down again, running toward me, and pulling me toward the kid's kayaking pool.

I've been to an Olympics overseas, many major events here in the U.S., and sporting events on several different continents. I've loved every event for its own personality, but in truth I cannot recall an event more kid-friendly than the Teva Mountain Games.

As a second-generation kayaker, it heartened me to see my five-year-old nephew, Kienan, get his first taste of the sport at such a young age. He watched in awe as the free-ride mountain bikers did things on their bikes that he had never dreamed of doing on his little Huffy … but believe me, he tried again and again to mimic their moves.

I'm not a parent, but I caught a glimmer of that feeling one gets when watching a little one have the time of his life. I looked around and saw many other parents with that same glimmer, happy to know that the people at the TMGs took the time and effort to make this a top-notch family event.

I'm already looking forward to next June's TMGs ... and who knows, maybe by then I'll have my own little one to bring along?


Comment on "With kayaking, climbing, and more, Teva Mountain Games was a kid-friendly event" using the form below