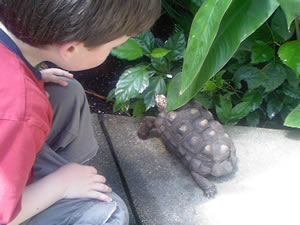 Nick Williams gets up close and personal with a turtle at the Denver Butterfly Pavilion, which will present a bevy of bugs at the Vail Nature Center July 9. And in the below video, Nick handles Rosie the tarantula.
By David O. Williams
Vail Nature Center teaches kids about birds, bees and butterflies
By realvail.com
July 1, 2008 — If you have kids, the Vail Nature Center is the place to be Wednesday nights throughout July as the Vail Recreation District kicks off its Family Fun Night program July 2.

The Wednesday evening programs will feature educational, interactive and entertaining guest speakers from 7 to 8:30 p.m. at an affordable price of $10 for adults, $5 for kids and just $30 for a family of four.

The evenings begin with an introduction by Vail Nature Center staff followed by presentations from Colorado experts on a variety of topics. All ages are welcome.




Family Fun Night's July schedule (all programs Wednesdays from 7 to 8:30 p.m.):

• July 2: A bee keeper from Montrose, Colo., will bring bees and share how these buzzing creatures create honey and pollinate the local flora.

• July 9: Denver's Butterfly Pavilion will share exotic insects from all around the world, including some kids can touch.

• July 16: Learn about Native American history, dress and culture from a Ute and an Oglala Sioux.

• July 23: Stream ecology, entomology and what makes our streams, rivers and lakes amazing, presented by the Leadville fish hatchery.

• July 30: HawkQuest of Denver will bring live birds of prey to Vail and share the importance of these creatures in their natural environment.

Nature Center director Tom Gaylord says the Family Fun Night program is a great opportunity for parents and children to learn different aspects of Vail's history and its local surroundings.

"This is the third year for the Family Fun Night program and each year it gets better and better," Gaylord said. "We're looking forward to bringing unique presenters to Vail and offering evenings that are affordable and perfect for all ages."

Family Fun Night follows the new "Real Raptors and Their Stories" program taking place at 5:30 p.m. Wednesdays throughout July and August at the Gore Creek Promenade. The program includes live raptors and the telling of their stories.

Gaylord said the Family Fun Night and the raptor program tie in nicely and will provide an entire evening of fun for the family.

"Wednesday evenings are going to be a great way to spend time together this summer," Gaylord said. "With the new raptor program and Family Fun Night, a family can spend an entire evening together learning and discovering what makes Colorado special."

The Vail Nature Center is operated by the VRD and is open daily from 9 a.m. to 5 p.m. through Labor Day Weekend. It is located adjacent to Ford Park and across the street from the soccer fields.

In addition to Family Fun Nights, the Nature Center offers unique programs including plant and animal exhibits, wildflower and morning bird walks, evening beaver pond tours, a summer speaker series, a hiking club, fly fishing and stream ecology classes and campfire story telling with star gazing.

For more information or a schedule of events, go to www.vailrec.com or call the Nature Center at (970) 479-2291.


Comment on "Vail Nature Center teaches kids about birds, bees and butterflies" using the form below