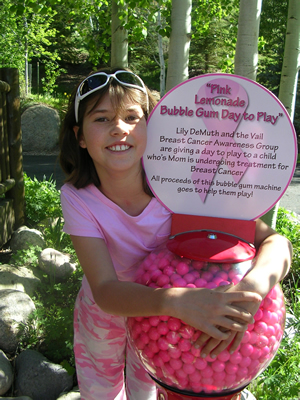 Lily DeMuth, 8, of Edwards, is raising money for breast cancer awareness with a bubble-gum machine she found abandoned in her mother's office.

Lily DeMuth, 8, puts bubble gum machine to use promoting breast cancer awareness
By realvail.com
July 12, 2008 — Eight-year-old Lily DeMuth saw tremendous potential in an oversized bubble gum machine that had been abandoned in her mom's office.

With a classmate whose mother was being treated for breast cancer, DeMuth wanted to use that machine to raise money for breast cancer awareness. The problem was, she wasn't making too much money with the machine, stocked with pink lemonade bubble gum, housed in her bedroom.

"Lily and my son are classmates. One day at school, knowing that I am on the board of the Vail Breast Cancer Awareness Group, she came up to me and asked if there was any way we could work together," said Kristin Kenney Williams. "When 8-year-olds are affected by cancer, when one boldly asks, 'how can I give?' you immediately figure out a way."

After DeMuth contacted the Vail Breast Cancer Awareness Group, a non-profit organization that raises money for women in Eagle County who are battling breast cancer, the ladies established the Pink Lemonade Bubble Gum Day to Play program. The funds raised by DeMuth's bubble gum machine and matched by the Vail Breast Cancer Awareness Group will be given to children each year whose moms are undergoing treatment for the disease.

The Vail Breast Cancer Awareness Group's primary fundraiser is the Celebration of Life Luncheon held every July. The VBCAG has raised nearly $500,000 since its inception in 1993. One of the group's programs is A Day to Play where women currently undergoing treatment for breast cancer receive funds for $500 to relieve the stress of cancer treatment.

"Because of Lily's desire and vision, we have created A Day to Play program for kids who also need a little help with stress reduction and treating the emotional effects caused by this terrible disease," said Williams.

The bubble gum machine rotates from eat! drink! and dish restaurant in Edwards, to Roxy clothing stores in Vail Village and Beaver Creek. A bubble gum costs just 25 cents.

The first recipients of the Pink Lemonade Bubble Gum Day to Play will be announced on Friday, July 18 at the 14th Annual Celebration of Life Luncheon at the Ritz-Carlton Bachelor Gulch. Dr. Susan M. Love, a pioneer of breast cancer advocacy, will serve as the guest speaker. The day's events will begin with a silent auction at 11 a.m., followed by the luncheon and Love's presentation. The cost is $100 per person. For ticket sales, call (970) 479-8595.

On Thursday, July 17, Dr. Love will sign her book – which has recently been reprinted –Dr. Susan Love's Breast Book, termed "the bible for women with breast cancer," by the New York Times, at eat! drink! from 5-7 p.m. Cost is $40, not including the book. Muse wines will be poured and fine cheeses served. For ticket sales, call (970) 926-1393.


Comment on "Lily DeMuth, 8, puts bubble gum machine to use promoting breast cancer awareness" using the form below