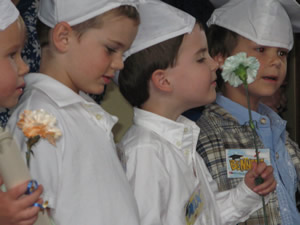 Max Williams, now 5, stops to smell the flowers during his Children's Garden of Learning graduation ceremony at Donovan Pavilion in Vail in June.
By David O. Williams
Children's Garden of Learning , a truly great Vail preschool, sees some rare openings
Down-valley migration blamed, but vacancies a golden opportunity for a few fortunate families
By David O. Williams
August 23, 2008 — With three boys ranging in age from 20 months to eight years old, I know a thing or two about the state of daycare and preschools in the Vail Valley. Suffice to say, they're not cheap, but they are generally very high quality.

In an area where single-bread-winner families are a rarity because of the high cost of living and housing, daycare is a hot commodity, and Vail Valley residents are very lucky to have some excellent choices.

But the competition for slots is fierce, so if you're even thinking about having kids, get on all the waiting lists. We've had our boys in facilities up and down the valley, from Family Learning Center in Edwards to Vail Child Care and Children's Garden of Learning in Vail.

Given the relatively low pay, long hours and sometimes trying work conditions, the great administrators and incredible teachers at all of these facilities do an amazing job of not only caring for kids but socializing and educating them as well.

For me, though, Children's Garden in particular stands out. Our 5-year-old son Max "graduated" from CGL in June and it was a sad day in the Williams family – not just because our baby is growing up, but because we knew we wouldn't be regularly interacting with the wonderful teachers and staff at CGL for many months until our youngest son Rennick is old enough to attend.

So I was surprised last month when an article on a slew of rare vacancies at Children's Garden of Learning appeared in the Vail Daily. Seems the down-valley migration of young families because of the high price of housing in Vail and rising fuel costs have conspired to create quite a few openings at CGL.

Here's my advice: if you're reading this west of Dowd Junction and waiting for something to open up at a down-valley facility, seriously consider CGL. It costs a little more than the other places, but the teacher-child interaction, educational elements and personal attention are overwhelming at CGL.

Give CGL's excellent director, Robin Henzler, a call at (970) 476-1420 or go to CGL's Web site at www.childrensgarden-vail.com to learn more. Tell her realvail.com sent you.






1 Comment on "Children's Garden of Learning , a truly great Vail preschool, sees some rare openings"