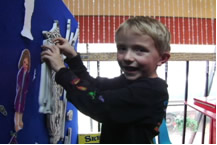 Come check out the new-look Imagination Station Saturday, Nov. 8.
Courtesy of the Vail Recreation District
www.vailrec.com
New-look Imagination Station a great child-care option for the coming ski season
By realvail.com
November 7, 2008 — The Vail Recreation District's (VRD) Imagination Station, Vail's learning and discovery center, will celebrate its annual season opening party from 10 a.m. to 4 p.m., Saturday, Nov. 8, to showcase the changes it has made over the last year.

Located in the LionsHead parking structure above Subway, the Imagination Station offers children ages 2 through 12 a wide array of hands-on science and art activities including science of sound, a giant marble wall, a paint-with-sand pendulum, a black-light room where children can capture their shadows and an exhibit where children experiment with balance.

The season opening party is an opportunity to preview the activities before the Imagination Station opens for the winter season in December. The celebration offers free entry to Imagination Station, free food from Pazzo's and Subway and special games and challenges.

The Imagination Station opened in November 2005 and according to VRD Youth Services Director Chad Young, each year Youth Services staff enhances and expands its offerings. If it's been a while since your last visit, Young suggests scheduling plenty of time to explore all the changes.

"We have focused on making the look and feel of the Imagination Station very welcoming for the upcoming season," Young said. "Additionally, we have enhanced the music area with new instruments and added quite a few new activities. You're guaranteed to see something new at the party."

The Imagination Station will transition to its winter hours on Dec. 1 and be open from 10 a.m. to 6 p.m. Sunday through Friday, closed Saturdays.

Children ages three and older, who are potty-trained, also can be dropped off with Imagination Station staff for up to three hours for $10 per child, per hour. Reservations are required.

According to Young, the drop-off program is the perfect opportunity for staff to guide children through a variety of activities while parents enjoy skiing or an afternoon with friends.

For more information, call the VRD Youth Services Department at (970) 479-2292. For information on all other VRD activities, go to www.vailrec.com.



Comment on "New-look Imagination Station a great child-care option for the coming ski season" using the form below