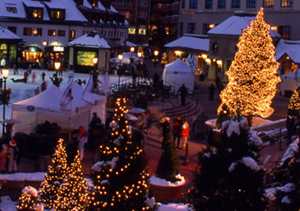 Family holiday festivities at Beaver Creek kick off the 2008-09 season Nov. 28 with a tree lighting in Beaver Creek Plaza and at the Ritz-Carlton in Bachelor Gulch. Kids can also participate in the gingerbread house competition, poetry contest and marvel at holiday fireworks.
Photo courtesy of
beavercreek.com
Fantasy gingerbread house competition, tree lighting, fireworks kick off family holidays at BC
By realvail.com
November 25, 2008 — The sixth annual Fantasy Gingerbread House competition and the 28th Annual Tree Lighting Ceremony and fireworks display will kick off the holiday season in Beaver Creek Friday, Nov. 28.

Elaborate gingerbread houses will be displayed and 100 percent of silent auction proceeds will go to Court Appointed Special Advocates (CASA), a local organization serving abused and neglected children in Eagle, Summit, Lake and Clear counties.

Kids can get creative with the "Kids' Holiday Wish for a Better World Poetry Contest". Judges will select poems that best reflect the spirit of the holiday season. The winner will read the winning poem at the Tree Lighting Ceremony and will light the tree.

Families can celebrate the holiday season with the following activities in Beaver Creek Village on Friday, Nov. 28. Special programming is provided by Blue Creek Productions.


3 – 8:30 p.m. – Free public viewing and silent auction of gingerbread houses in the Gerald R. Ford Hall at the Park Hyatt Beaver Creek Resort and Spa.

5:30 – 6:30 p.m. – Tree Lighting Ceremony on Beaver Creek Plaza with musical performances, fireworks and a visit from Santa Claus.

6:30 – 7 p.m. – Hot chocolate and cookies served in the lobby of the Vilar Center for Performing Arts.

7 p.m. – Free family movie viewing of "The Santa Clause 3: The Escape Clause" at the Vilar Performing Arts Center. Seating available on a first-come, first-served basis, with tickets available beginning at 5 p.m. at the Vilar Center box office.

7 – 9 p.m. – Complimentary ice skating after the event on the Black Family Ice Rink. There will be no skating from 4:30 – 7 p.m. in order to accommodate the ceremony.

Bachelor Gulch Tree Lighting on Saturday, Nov. 29

The Bachelor Gulch Tree Lighting will take place the following evening on Saturday, Nov. 29. The Ritz-Carlton, Bachelor Gulch invites the community to participate in its daily fire pit lighting tradition at 3:15 p.m., followed by cookie decorating for children from 3:30 - 5 p.m. and the chance to build and decorate a "Habitat for Bachelor", the resort's resident-Labrador Retriever, to raise funds for the local Habitat for humanity organization. Guests will also enjoy complimentary hot chocolate, delectable treats and live carols by the local Mountain Harmony Group. A lighting of the hotel's holiday tree and surrounding areas will take place at 5: 45 p.m. on the Mountainside Terrace. All activities are open to the public. For more information, call The Ritz-Carlton, Bachelor Gulch at 970-748-6200.
More event information can be found at the
beavercreek.com event page

Comment on "Fantasy gingerbread house competition, tree lighting, fireworks kick off family holidays at BC" using the form below