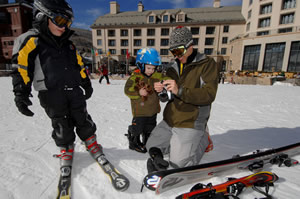 Find the right terrain for their skill level and make sure your kids are always having fun and the entire family will have a much better time on the slopes.
By Dan Davis
trekkerphoto.com
Keeping kids in control on skis fights fear factor
By David O. Williams
February 8, 2009 — Last year on opening day at Vail I made the critical error of
taking my then 4-year-old son Max down the only ski run open that very dry November, the intermediate trail known as Born Free.

Calling early season ski runs the "white ribbon of death" -- a local disparagement aimed at the mostly machine-made and crowded conditions -- is not so funny when you?re trying to navigate the track with your young son.

My stupidity in taking Max down that run stemmed from my parental memories from the previous spring when he was able to easily link French-fry turns down similarly steep blue runs without an ounce of trepidation. But that was on soft snow, with far fewer people around and at the end of a season of ski school.


Tips for fighting the ski fear factor for kids
Mike Evans, a Vail ski instructor and seven-year veteran of the Vail
Development Team, offers these tips on avoiding the fear factor for kids learning to ski, or overcoming it once they've had a bad experience:

* Avoid putting your kids in bad situations. Know their limits and ski within them, because instilling and maintaining a sense of confidence is critical to keeping kids excited about the sport.

* Don't take your kids onto terrain just because you want to ski it and just hope they can handle it. If you want to turn your kids off to the sport forever, take them into the Back Bowls when they're not ready. You'll both have a day you'll never forget.

* Let them dictate the place and the pace of the skiing. Feeling in charge empowers even the youngest kids. Pretty soon they'll be testing your abilities by taking you into the trees (watch out for low-hanging branches).

* If you do take your kids somewhere they can't handle, stay calm and work your way through the situation with patience and good humor. Screaming at them will only compound your original blunder (this applies to teaching spouses, girlfriends or boyfriends as well, and is one of the best ways to end a relationship).

* Finally, leave it to the pros. Dragging your kid around the mountain on a harness and yelling at him or her to stand up will result in angst for both parties. But you'll be amazed at their skill level after just one or two days with a pro, and the group dynamic really makes them charger harder (this applies to older beginners as well).

* Number one is to have fun. If you insist on teaching your kids yourself, keep it light and don?t think about all the powder turns you're missing with your buddies. You're never wasting a lift ticket when you're outside enjoying the mountains with your kids.


A summer off of his skis and his sudden rude reintroduction to the sport guaranteed Max was practically petrified with a level of fear I'd never seen him exhibit before. It took 45 minutes of coaxing, cajoling and occasionally carrying to get to the bottom of the mountain.

This year on opening day in the midst of a similarly dry November, although slightly better than last season, I channeled my hard-learned lesson and took now 5-year-old Max up the gondola and made several runs with him at the fantastic beginner area atop the mountain.

He quickly got his ski legs under him, regained his confidence in the sport and made the decision on his own that he wanted to tackle some tougher terrain.

Lesson learned the hard way. In retrospect, because the steeper, intermediate Born Free was the only thing open the previous season, I should have waited to ski with Max until something flatter and friendlier was open.

This season, I may have bored my 8-year-old son Nick a bit by heading straight to the flats, but I'll take boredom over terror any day, and even he seemed to appreciate easing into the season a bit, getting his ski legs under him on Day 1.

Part of it, too, was my own selfish agenda. After missing most of last season when a knee injury knocked me out in January, I was purposefully going slowly on opening day this season, whereas in the past I may have charged it a little harder out of the gate.

You can't do that with kids. Projecting your own skiing goals onto your children is a sure way to get them overcommitted on terrain they have no business on, which then forces you to readjust your expectations on the fly.

You may think you'll have more fun if you take your kids onto the terrain you want to ski, but you'll actually wind up hating life, and you'll lose their trust. And once kids become fearful of something, it's hard to get them to go back to it with their previous gusto.

"To start off, you try to avoid those situations from the get-go," Vail ski instructor Mike Evans told me. "A student, whether it's a kid or adult, once they don't feel safe and secure, they're never going to get past that point.

"Whoever's taking them out, whether it's a parent or an instructor, [a kid] has to have complete faith in that person. Kids trust their parents, but sometimes might not trust their decision-making when it comes to terrain."

My example with Max was a classic case of adult overstepping. So what do you do once you've made that fatal error and your kid is now terrified of the sport? That question comes from a woman whose teenage son somehow got in over his head and has never recovered, preferring to hang in the lodge while his brothers are out ripping it up.

The answer is fairly simple: get the kid back in his or her comfort zone. Kids, not unlike adults, want to be confident and in control, so returning them to terrain they can manage under favorable conditions is key.

At the risk of sounding like a shill for the industry, the best way to do that is put your kids (no matter their age) in a lesson.

Instructors have spent years figuring this stuff out, and they are masters of making kids feel in control.

In a group dynamic they'll feed off other kids of similar ability levels and may even advance into a leadership role. Nothing will make them feel better about the sport than that.

But if in these tough economic times ski school is a luxury you can't afford but you still want to go skiing with the family, remember to dial down your own expectations and make it all about your kids.

Go where they want to go, ski how they want to ski, and above all, have fun.


Comment on "Keeping kids in control on skis fights fear factor " using the form below