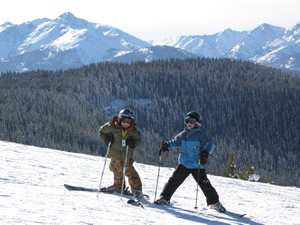 Kids tend to drive the modern ski vacation, so Colorado resorts are looking to attract families this spring with some good deals in a down economy.
By David O. Williams
Smaller can be better when it comes to kid-friendly ski areas in Colorado
A roundup of the best family ski deals for the remainder of the 08-09 season
By David O. Williams
March 1, 2009 — Think of the best and often cheapest places to ski with kids in Colorado and the so-called "Gems" immediately leap to mind.

The nine small resorts that comprise the industry marketing group Colorado Ski Country USA's Gems -- Arapahoe Basin, Ski Cooper, Powderhorn, Loveland, Eldora, Monarch, SolVista Basin, Sunlight and Echo Mountain – are time machines that take families back to the retro roots of the sport.

The Gems are often far less crowded than the state's mega-resorts, which puts parents' minds at ease, and prices for everything from cafeteria food to lift tickets to ski school are usually a fraction of what the big boys charge.

I grew up skiing just such a micro-resort in south-central Pennsylvania – a blip of a "mountain" called Blue Knob – and I never once remember thinking it wasn't high enough, didn't have enough trails, needed more snow or lacked a $12 cheeseburger. When you're a kid, almost any ski area awes you.

But now I live in Vail, raising three boys at the base of the nation's largest and second-busiest ski area, and I wonder sometimes if I'm spoiling them as young skiers – if they'll ever be able to appreciate the simpler aspects of the sport. Free parking. The brown-bag lunch. Hitting one kicker over and over all day long.

A quick trip over Tennessee Pass to Ski Cooper, or a little longer jaunt up through Kremmling to SolVista Basin at Granby Ranch, and I have my answer. Parents, especially the more avid skiers, may get a bit bored, but kids under 10 don't care where they are, and my kids are no exception.

SolVista (formerly Silver Creek), for instance, is a prime example. It's near enough to Winter Park that the more hard-charging grownups can head over there and beat themselves up on the bumps at Mary Jane, but it's far enough removed that lodging is a lot cheaper and the mountain is as kid-friendly as they come.

"You can't lose your children here; because everything comes to the base, to one spot, which is very appealing to us," said Zsuzsanna Tuell, a Broomfield software engineer whose family learned to ski at Winter Park but was considering buying into Granby Ranch.

"Skiing is a brand-new sport for me," said Tuell, originally from Hungary. "When our oldest was just about three years old, that's when I started skiing. I was as much of a beginner as she was. We learned together."

And because SolVista is an all-season resort with a pool, golf course and its own club, Tuell's husband Todd said there's always something for the kids off the slopes as well. "They kept us very busy, kept our kids very busy," Tuell said of SolVista.

I personally can attest to the kid cred of SolVista. My parents live near Winter Park -- a great family resort in its own right but sometimes a little nerve-wracking with small kids on weekends – and we occasionally just take the kids over to SolVista, where you never worry about losing them in the crowd.

That's true of all of the Gems from Loveland to Monarch (I've skied all but Echo Mountain and Powderhorn with my kids), but even the big ski factories like Breckenridge and Copper Mountain have their quiet corners where kids and parents can feel comfortable and bigger, sometimes more professional staffs can deliver top-notch instruction to young snow riders.

The Arrowhead and Bachelor Gulch areas of Beaver Creek fit that category in my own backyard, although the Beav's new beginner gondola and Haymeadow teaching area are far more serene than Vail's Golden Peak beginner terrain. Vail does have a good novice area atop its gondola, though, and most big resorts have some hidden lift to get away from the fray.

The big destination resorts, places far from the Front Range like Steamboat and Telluride, always tend to offer a little less stressful place to make turns with the kiddos, even on weekends. And the destination resorts seem to be the most motivated to cut prices in the downward-spiraling economy.

One of my favorite kid's ski schools in the state, because of both the instructional quality and the terrain, is the Telluride Ski and Snowboard School Kid's Camp.

Despite the misconception that Telluride is the most daunting mountain in the state (actually, it arguably is), the incredibly long (4.6 miles) and mellow Galloping Goose trail is a great place to cruise with your kids or catch up to their ski-school class to watch them in action.

"Terrain, lack of crowds, and our instructor staff put us above the rest," Noah Sheedy of Telluride's Children's Ski School told me, and I really can't argue with him based on our own experiences in T-Ride.


This spring the destination resorts, desperate for heads on beds, are breaking out the deals to attract families, including some kids-fly-and-ski-free deals for out-of-state or even in-state snow riders looking to avoid arduous drives with the kids screaming "are we there yet?" the whole way.

And my experience from nearly 35 years in the sport is that there's no vacation like a ski vacation to form closer family bonds, especially in trying times. After all, the family that skis together stays together.

Family-friendly ski deals

Here's a partial list of some of the better kid-oriented ski deals currently being offered by Colorado resorts:

Colorado Ski Country USA Gems Card – discounts and even some free lifts tickets at all nine smaller resorts around the state. A limited number of additional Gems Cards for the 2008-09 season were released in early February. Go to www.coloradoski.com for more information.

Arapahoe Basin – The new A+ season pass is good for the rest of A-Basin's extended season (usually into June), plus five days at Breckenridge or Keystone (one of those can be used at Vail or Beaver Creek), five days at Bear Valley, Calif., one unguided day at Silverton and a slew of other discounts for $279 for individual adults or $699 for two adults and two kids. An A-Basin-only pass is just $109 for kids for the rest of the season. Go to www.arapahoebasin.com.

Beaver Creek (and/or Vail) – The popular Kids Fly, Ski and Ride Free deal was extended through March 31 for trips booked by Feb. 28. Kids fly free on American Airlines into Vail/Eagle County airport, ski free (one-day kid's lift ticket) at either Vail or Beaver Creek and get a free shuttle ride from the airport to your lodging (with qualifying adult purchase). Call (866) 668-8245 (KFF code).

Breckenridge (and Keystone) – Both resorts are offering $79 Sunday Sleepover rates for families looking to avoid the brutal Sunday night traffic on I-70, extend their ski weekend by a few hours and get back to school and work at the crack of dawn Monday when the roads have cleared. Go to www.snow.com or call (800) 404-3535.

Copper Mountain – Buy lift tickets online and get special spring break and late-season deals. Lodging is up to 35 percent off throughout February. Go to www.coppercolorado.com or call (866) 841-2481.

Crested Butte – Stay in a Crested Butte Mountain Resort Properties condo this season and kids ages 7 to 12 ski free (some restrictions apply). Call (800) 810-7669.

Durango Mountain Resort – With the Kids Ski Free package, Durango throws in the kid's lift tickets for free with the purchase of four nights lodging and four days of adult lift tickets. Call (800) 982-6103.

Keystone – In addition to discounted lodging deals, Keystone is offering free ice skating, snow biking, yoga, snowshoeing and kids puppet shows through their Adventure Passport. Go to www.keystoneresort.com.

SolVista Basin – the weekends of Feb. 21, March 7 and March 21, SolVista's Stay and Play Package for $229 includes one night in a trailside condo, two days of family skiing, a wine and cheese reception and continental breakfast. Call (888) 850-4615.

Telluride – Kids fly for free on certain American Airlines flights into Telluride with the purchase of a 5-night, 4-day Stay & Ski Packages for a family of four for $910. Call (800) 778-8581.

Comment on "Smaller can be better when it comes to kid-friendly ski areas in Colorado" using the form below