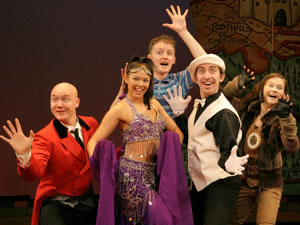 A musical version of the beloved childrens' book "The Phantom Tollbooth" takes to the stage of the Vilar Performing Arts Center in Beaver Creek Friday.

Musical version of 'Phantom Tollbooth' on stage at Vilar Center Friday
By realvail.com
March 18, 2009 — Even surrounded by dozens of toys, Milo is bored. Nothing interests him at all. But there is hope for Milo when "The Phantom Tollbooth" comes to the rescue.

This is the plot behind Norton Juster's beloved children's tale, which comes to life for audiences of all ages on Friday, March 20, at the Vilar Performing Arts Center. The production includes two show times, with a noon performance in conjunction with the VPAC's educational outreach program STARS, and a public performance at 6:30 p.m.

Juster's beloved children's book is given full musical treatment in this acclaimed stage version of the beloved modern tale.

The story follows Milo on his quest to save the princesses Rhyme and Reason and reunite the brother kings who rule over the cities of Dictionopolis and Digitopolis. Aided by a trusty time-keeping dog, Tock, Milo successfully brings harmony to the Land of Wisdom and learns many things about words and numbers along his journey.

Perhaps the most important lesson he takes with him, however, is that everything we learn has a purpose and whatever we do affects everything and everyone. When he returns home, he realizes there is never a reason to be bored in a world full of so many things to discover.

This inventive musical adaptation features a melodious score by Arnold Black and witty lyrics full of wordplay by Pulitzer Prize and three-time Tony winner Sheldon Harnick ("Fiddler on the Roof," "She Loves Me"). "The Phantom Tollbooth" is an endearing show that audiences of all ages will find endearing.

The Kennedy Center Theater for Young Audiences on Tour has presented more than 30 tours in hundreds of US and Canadian cities. More than 2 million children, teachers and parents have been part of these audiences.

Although many of these students may never have the chance to visit the nation's performing arts center in Washington D.C., they can still experience the talent that has become the trademark of The Kennedy Center.

Tickets for "The Phantom Tollbooth" are $11 for children and $14 for adults, and are available online at www.vilarpac.org, by phone at 888.920.ARTS(2787) or in person at the VPAC box office in Beaver Creek. Tickets are available online 24 hours a day; the box office is open Monday through Saturday from 11 a.m. to 5 p.m., with additional hours on performance days.



Comment on "Musical version of 'Phantom Tollbooth' on stage at Vilar Center Friday" using the form below