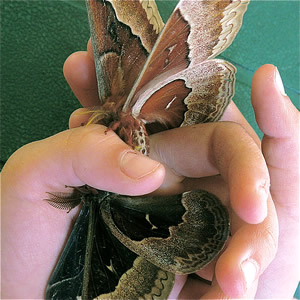 'It's just beautiful': 400 kids to release butterflies at Betty Ford Alpine Gardens
By realvail.com
May 14, 2009 — Thousands of Painted Ladies will take their first flutter soon at America's highest botanical garden.

More than 400 Eagle County third-graders are expected to participate in the annual Butterfly Launch at noon on Wednesday, May 20, at Betty Ford Alpine Gardens, in Vail's Ford Park.

"I can say with great enthusiasm and anticipation the annual butterfly launch is a real treat," said Ann Kurronen, executive director of the Betty Ford Alpine Gardens. "It is a wonderful program that educates children on life cycles and the responsibilities of raising their own butterflies, which then culminates in the launch at the Gardens. It's just beautiful."

The students, from both public and private schools throughout Eagle County, were supplied this spring with kits including a viewing net, caterpillars and food. Over the course of about a month, they've raised the caterpillars, watching as each pupated and turned into a Painted Lady Butterfly ready to take flight.

The students first gather at the Betty Ford Alpine Gardens at 11:30 Wednesday for lunch before releasing the butterflies together at about noon. It's all set to music by renowned local musician Helmut Fricker performing his popular Austrian alpenhorn and squeezebox act. Snacks will be provided by the Marketplace on Meadow Drive.

"Coupling the educational benefits for children of Eagle County schools with the beauty and awe of the Betty Ford Alpine Gardens serving as the backdrop for hundreds of butterflies is astounding," said Kurronen. "We are excited to again offer this wonderful program."

Betty Ford Alpine Gardens, at 8,250 feet above sea level in Vail's Ford Park, is the highest botanical garden in the United States, and perhaps the world, providing free access to an estimated 100,000 visitors annually.

A 501(c)(3) nonprofit organization for which operations and programs are funded entirely through the generosity of donors, its mission is to inspire passion for plants in high-altitude communities through beautification, conservation, education and research programs.

Recognized as the foremost authority on high-altitude plants in natural and cultivated landscapes in the Rocky Mountains, Betty Ford Alpine Gardens not only contributes staff and expertise essential to conservation efforts throughout the region, it also provides an environment for rare, exotic and imperiled alpine wildflowers and plants.

It also plays an important role in encouraging summertime flower displays throughout the Vail Valley at both private homes and businesses.

For the complete events schedule or more information about the Betty Ford Alpine Gardens, call (970) 476-0103 or visit www.bettyfordalpinegardens.org.

Comment on "'It's just beautiful': 400 kids to release butterflies at Betty Ford Alpine Gardens" using the form below