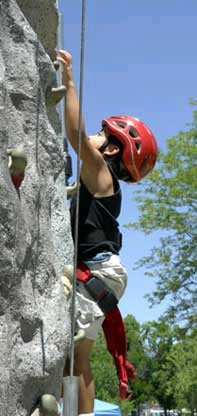 Forest Service, Vail call on kids to 'Get Outdoors' during national celebration in Denver June 13
By realvail.com
May 27, 2009 — Current research from AAA and the USA Travel Association shows Americans are still traveling and making plans this summer to get outdoors, but they're making adjustments like shorter trips that are closer to home. And, they're spending less money on "the frills" and looking for value.

That's why visits to National Forests, National Parks, State Parks, campgrounds and the "outdoors" are expected to increase this summer. Experts are recommending outdoor vacations as a way to reconnect with your family and also with nature in an affordable, authentic and exciting way.

"We're fortunate that we live in a state that provides a variety of outdoor adventures - from short hiking trips on the Front Range to wilderness backpacking in our remote mountains," said Susan Alden, partnership coordinator with the United States Forest Service and organizer for this year's National Get Outdoors day June 13 in Denver. "The key is teaching children and their parents how easy it can be to access these adventures."

But many Colorado children and families aren't getting outdoors. Studies show that over the past 20 years, the time kids spend outside has fallen by 50 percent, and the time they spend plugged into electronic media each day has grown to more than six hours.

To help introduce Denver and Colorado kids to outdoor adventures, a coalition of public land management agencies, outdoor recreation and education groups (including Vail Resorts) are bringing the Great Outdoors to City Park in downtown Denver for a one-day free event on June 13.

National Get Outdoors Day will offer kids and families a chance to learn more about hiking trails, camping equipment, how to pack for a day trip, what are the skills you need to know in the outdoors and to offer kids a chance to ski in the summer, fish and canoe, rock climb and mountain bike on site at City Park that day.

Go to www.fs.fed.us/r2/go-day for more information.

NATIONAL GET OUTDOORS DAY

June 13 at Denver City Park

WHAT: Thousands of Colorado kids and families will learn ways to "GET OUTDOORS" at the second annual NATIONAL GET OUTDOORS DAY, a free event open to the public.

The action-packed day features:

* A Climbing Wall

* Wildlife Tracking

* Mountain Biking

* "How-To" Camping Demonstration

* Canoeing and Kayaking

* Junior Ranger Camp

* Skiing in the Park

* Fishing

* Sustainable Living Village

* Obstacle Courses

* Meet Smokey Bear

* Stage Activities

* Volkssport 5K

* Tips for outdoor cooking

* Learn to read a map and compass

* The President's Physical Fitness Challenge

* Plus music, food, prizes and fun

WHO: National Get Outdoors Day is co-sponsored by the US Forest Service and the American Recreation Coalition. In addition, more than 80 Community Partners, including City, State, and Federal Government agencies, as well as non-profit organizations and local businesses have donated their time, energy and resources towards making this event a success.

WHEN: 9 a.m. – 3:30 p.m., Saturday, June 13, 2009

WHERE: Denver's City Park, E 17th Ave, Denver

WHY: Bringing these activities into the city gives many Denver urban youth the opportunity to experience a variety of outdoor activities that they may not have access to otherwise.


Go to www.fs.fed.us/r2/go-day for more information.



Comment on "Forest Service, Vail call on kids to 'Get Outdoors' during national celebration in Denver June 13" using the form below