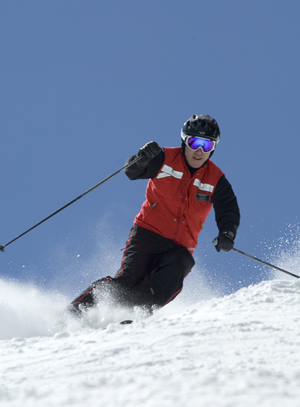 Vail Resorts CEO Rob Katz carves some turns on Vail Mountain, where he hopes to also make his mark as a green ski exec.
By Dan Davis
trekkerphoto.com
SkiEO: Vail chief makes jump from Wall Street to Pearl Street
Boulder's Rob Katz looks to make Vail Resorts a green leader in the ski industry
By David O. Williams
June 1, 2008 — In just over two years on the job, Vail Resorts CEO Rob Katz has warmed to his very public position at the helm of the state's top ski company, emerging from the lucrative but relatively obscure world of a Wall Street private equity firm to grab numerous headlines directing Vail's new-found environmental ethic.

His first day on the job in 2006, which Katz said was his hardest, he announced the company's corporate headquarters would be moved from Avon, in the mountains near Vail, to a LEED-certified (Leadership in Energy and Environmental Design) building in suburban Broomfield between Denver and Boulder.

Katz followed up that move with a series of headline-grabbing green announcements, including the purchase of enough Renewable Energy Credits, or REC's, to offset the company's annual energy use of 152,000 megawatts at its five ski resorts – Beaver Creek, Breckenridge, Heavenly (Calif.), Keystone and Vail – as well as all of its hotels and retail outlets.

Aspen and Vail: green-washing war or good for skiing?
In the environmental arms race among ski resorts, for years Aspen was the sole superpower.

But in recent years other resorts, including Aspen's major in-state rival, Vail, have been doing some impressive green saber-rattling of their own, although still playing catch-up to Aspen Skiing Company in the all-important marketing battle of public perception.

"I wouldn't say Aspen forced our hand," Vail Resorts CEO Rob Katz said. "I would say Aspen has been a really good leader on a lot of these initiatives, and I give them a lot credit for being in the forefront of that."

Under the leadership of former CEO Pat O'Donnell, a ski industry veteran who cut his environmental teeth heading up clothing manufacturer Patagonia in the 1980s, Aspen was the first ski company in the nation to create an environmental affairs department and hire a full-time environmental director.

"To me, this is not about who's first, this is about doing the right thing," Katz added. "And I certainly encourage Aspen to continue to take these initiatives just like we do, and I certainly hope that we can both be constructive leaders in this overall effort."

Katz's first big green move at the helm of Vail Resorts came in 2006 when he announced the purchase of Renewable Energy Credits (REC) to offset the 152,000 megawatts of energy consumed by the company's five ski resorts, hotels and retail outlets in Colorado and California. Months earlier, Aspen had already announced it would offset 100 percent of its energy use with wind credits.

"I thought (Vail's) initial REC purchase was ill-advised, but they were actually following the lead of Aspen Skiing Company, and I thought Aspen Skiing Company's was ill-advised," said Aspen-based independent energy analyst Randy Udall, brother of Colorado congressman Mark Udall.

"Some Renewable Energy Credits have value and are worth doing and actually lead to a better world, and others don't," added Udall, who lumps ski-resort REC purchases in the latter category of "green-washing" because they don't help to increase actual renewable energy generation.

But even on-site renewable energy projects, such as Aspen's $1 million, 150-kilowatt solar system in Carbondale, are pricey, high-profile projects that amount to an drop in the energy-consumption bucket, Udall said.

Ditto the recent request to the U.S. Forest Service by Vail Resorts to install two one-kilowatt wind turbines atop Vail Mountain, a drastically scaled-back version of a defunct Vail plan from five years ago to install four 100-kilowatt wind turbines. Udall is much more impressed by conservation efforts such as Vail Resorts' recent announcement it will try to reduce its energy use by 10 percent overall in fiscal 2008.

"In the past, I've criticized some of the things Vail has done as green-washing, but this new program is significant," Udall said. "It's something Aspen Skiing Company hasn't done. So if (Vail Resorts) actually achieves that goal – it's not impossible, although it won't be easy – I think Rob (Katz) has raised the ante with that new program."

Udall is also pleased just to see ski companies like Vail at least talking a good game as far as conservation and green initiatives go, although he argued both Vail and Aspen have a long way to go to offset their massive and growing carbon footprints.

"They're predominantly trying to grow their bottom line; that's what corporations do," he said. "And growing the bottom line in many cases simply increases environmental impacts, but we live in a society that values the former more than the latter right now, and that's the challenge Vail and Aspen Skiing Company both face."

Ryan Bidwell, executive director of the Durango-based environmental watchdog group Colorado Wild, helps facilitate the annual environmental report card issued by the Ski Area Citizens Coalition. That report regularly downgrades Vail Resorts for real estate development and ski terrain expansions, while typically giving Aspen higher marks for its green initiatives.

"I think Aspen and Vail are getting closer together in terms of some of their proactive conservation programs, and that's encouraging from our perspective," said Bidwell, but the environmental bottom line for all ski areas may in the end have more to do with the financial bottom line than doing the right thing for the planet.

"Ultimately, the calculation for Vail is whether it's in their financial best interest to do these things," Bidwell said. "Increasingly, it's becoming clear to a lot of companies that it is. Whether you look at it from a marketing perspective or from a long-term, cost-savings perspective as you're building new infrastructure, making it energy efficient is a pretty reasonable thing to do."

Then the company partnered with the U.S. Forest Service's nonprofit National Forest Foundation to fund conservation projects with a voluntary $1 hike in ski pass prices. That was followed last year by the announcement the company would seek LEED Neighborhood Development certification for its new $1 billion Ever Vail hotel, residential and retail complex in Vail.

Last season, the ski company began serving natural Coleman beef and organic products in its on-mountain restaurants, and recently Vail Resorts sought permission from the Forest Service, which holds the lease on much of the ski company's land, to install small wind turbines and solar panels atop Vail Mountain.

"The ski industry itself should be a leader on the environment because that's what we are," Katz said. "The product we sell is an experience in the environment, so we really have a special opportunity, and of course we have a special obligation because we're using the environment to make money."

Increasingly, though, that bottom line is being cut into by rising energy costs. Vail Resorts spends more than $25 million a year on energy, prompting Katz to announce in an email to employees last week mandatory "energy layoffs" aimed at trimming the company's energy consumption by 10 percent in fiscal 2008. The email didn't divulge specific energy-saving measures but did not include workforce cuts.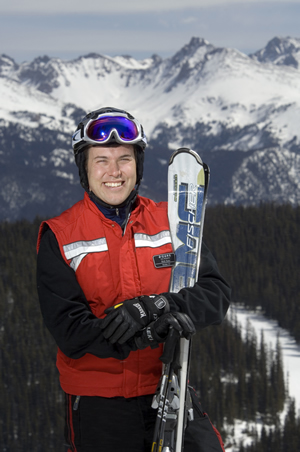 Rob Katz's latest proposal is to trim energy consumption at Vail Resorts by 10 percent in the coming fiscal year.

Conservation that positively impacts the company's bottom line is something Katz, 41, can certainly relate to as a former partner at Apollo Advisors, where he invested in and served on the boards of numerous companies, including Vail Resorts when it first went public in 1997.

But Katz said green initiatives need to be much more than mere financial or political practices, even in an industry so dependent on cold and snowy weather.

"I am worried about climate change, but much more as a parent than I am as a CEO," Katz said. "Because, quite frankly, if climate change is going to take place, then this planet has a lot more issues to deal with than skiing, and the reason we should be doing the right thing for the environment is not because part of our product obviously is snow."

A graduate of Penn's Wharton School of Business who grew up in New Rochelle, N.Y., and became a passionate skier even on the icy slopes of the Northeast, Katz right out of college worked as a mergers and acquisitions analyst for Drexel Burnham before that company went bankrupt in 1990.

He landed with financier Leon Black's Apollo Advisors, which acquired a big chunk of Vail when then-owner George Gillett went bankrupt in the early '90s. But Katz and his wife, Elana Amsterdam, had already started thinking about leaving Manhattan when 9/11 helped convince them Boulder would be a better place to raise their two sons.

Katz was living in Boulder, working part-time for Apollo and adjusting to life outside the rat race when then-Vail Resorts CEO Adam Aron stepped down in 2006. Katz said he was approached by board members who knew of his passion for the sport and wondered if he'd be interested. He said he was, but only if he could initiate significant change. The only resistance to his green push, he said, has come from those who question his motives.

"There are folks who are concerned about whether this is a political agenda, and one of the things that I've talked about a lot is that our company needs to do the right things to help prevent climate change without getting involved in a political debate about climate change," Katz said. "Of course, you're going to get involved in politics, but if you (pursue green initiatives) through a political agenda, you can lose your focus on what the core purpose of your company is."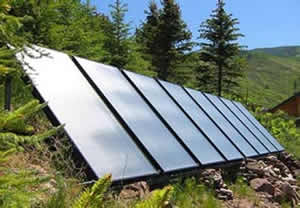 Aspen is becoming a hotbed for solar systems such as this one. Aspen Skiing Company is currently building the largest solar system on the Western Slope in Carbondale.

Katz said his wife has helped shape many of his environmental beliefs. Amsterdam grew up in Davis, Calif., worked for the Environmental Defense Fund, and started a recycling consulting business in New York City called Ecosav. A January Boulder Daily Camera guest column by Amsterdam entitled "Collision-course economy: consumption vs. conservation" describes her as an eco-preneur.

One of the biggest adjustments Katz has had to make in his transition from Wall Street to the Pearl Street Mall in Boulder, he said, is the high-profile nature of his new gig at the helm of one of the nation's leading ski companies.

"The persona of this company is much bigger than its size would dictate, and that's because it has a very big presence, first of all in the state of Colorado and within the sport, and also we have obviously a fair number of influential people who come (to Vail)," Katz said. "That kind of elevates the persona (of the company), and along with it my persona kind of gets elevated."

Comment on "SkiEO: Vail chief makes jump from Wall Street to Pearl Street" using the form below