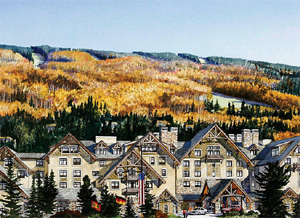 A rendering of the Four Seasons Vail, expected to open in 2009.
Courtesy fourseasons.com
fourseasons.com
Four Seasons Resort Vail enjoys early sales success
First Colorado Four Seasons hotel slated for completion next year
By realvail.com
January 15, 2008 — Colorado's first Four Seasons resort – and only the third ever in a mountain environment – is on track to be completed in Vail by the end of next year.
Being built just southwest of the main Vail roundabout, on the site of the former Holiday Inn and Vail Amoco, the Four Seasons Resort Vail will include a 120-room hotel, 16 wholly owned units and 19 fractional Four Seasons Residence Club Vail units sold at one-twelfth interests (total of 228 fractional interests).
A new real estate gallery and boutique featuring Four Seasons logoed merchandise opened on Bridge Street above Covered Bridge Coffee just before Christmas, and construction on the property itself has been proceeding on schedule through the fall and into the winter.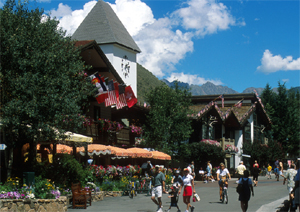 Summertime in Vail has become almost as popular among visitors as winter.
courtesy fourseasons.com

The gallery features a full-scale model of the project, design boards and an interactive video display with 3-D interior and exterior renderings. The boutique offers logoed merchandise such as Patagonia fleece jackets, golf shirts, local jewelry, photography, baby blankets and more.
Four Seasons Resort Vail amenities will include a full-service spa and state-of-the-art fitness club, sunken courtyard with private 75-foot lap pool, a fine dining restaurant, an après ski lounge and children's activity center.
The property in November released a handful of fractional opportunities to a group of initial supporters of the project through an early purchaser program, and Four Seasons Residence Club Vail sold approximately 83 percent of those interests in a few weeks, including two-, three- and four-bedroom options.
"By bringing the reputation and service standards of the Four Seasons brand to one of North America's top ski resorts, we've created a very limited, totally unique opportunity for unparalleled Vail living," said Jeff Meier, director of sales in Vail. The other two Four Seasons resorts in mountainous areas are in Jackson Hole, Wyo., and Whistler, British Columbia.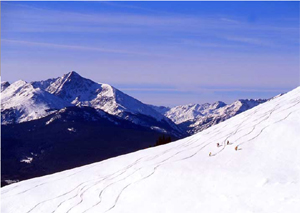 At the base of some of the world's best ski runs will be one of the world's most recognizable lodging brands.

Owners at Four Seasons Residence Club Vail will be surrounded by luxury and quality finishes, including the rich textures of hardwood, granite and limestone in each room. Other premium touches include Wolf and Sub-Zero appliances, flat-screen televisions with surround sound entertainment systems, custom cabinetry, Kohler fixtures and decorative lighting choices.
Demolition and site preparation, including underground utility work, shoring and excavation, have been completed, and the town of Vail issued a building permit in the fall, enabling the contractor to pour the foundation and begin concrete work. The structure for levels one and two was completed at the end of last year.
"With construction underway and a new projected opening planned for late 2009, this project represents a much-anticipated component of Vail's renewal effort underway throughout town," said Developer T.J. Brink, of Black Diamond Resorts – Vail LLC. "We're proud to be among such an esteemed group and look forward to contributing to Vail's continued success as one of the world's most popular resort destinations."
Call Meier at (877) 748-VAIL (8245), or visit www.fourseasons.com/ownvail for more information.

Comment on "Four Seasons Resort Vail enjoys early sales success" using the form below