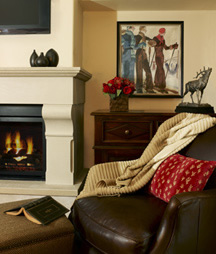 Rooms like these make the new Vail Plaza Club & Hotel a prime place to escape for Valentine's Day.
Special to realvail.com
Vail Plaza Club & Hotel offers enticing Valentine's special
By realvail.com
February 8, 2008 — The Vail Valley Partnership, in conjunction with the Vail Plaza Hotel & Club, is offering two Valentine's packages complete with lodging and appropriately themed amenities.


The recently completed Vail Plaza Hotel & Club, located in Vail Village, includes a new four-star hotel plus two excellent restaurants. In keeping with Vail Plaza Hotel & Club's Italian alpine heritage, Ristorante Da Vinci offers gourmet cuisine with northern Italian flair.


Galileo Restaurant offers a casual dining and après ski experience, while showcasing a menu of American culinary favorites with a vibrant atmosphere complete with open kitchen and dynamic décor and service.
Guests can choose from the following packages valid Feb. 9-14:


Al mio amore! (To my darling) - $250 a night


Stay at the Italian-themed Vail Plaza Hotel & Club with your significant other and enjoy a bed covered with rose petals, chocolate strawberries, a bottle of sparkling wine and two champagne flutes to celebrate this romantic occasion.


Vinotherapy Couple Massage ($243 for two people, lodging not included but offer above applies)


Indulge in a Vinotherapy couples massage during your stay. Let the Vail Plaza's professional therapists peel away the tension, making guests feel refreshed and renewed. Finish the treatment with a glass of wine, while experiencing serenity in the relaxation room.


These offers are available through the Vail Valley Partnership's Vail On Sale database, an online portal for the best last-minute lodging deals in the Vail Valley. Visit vailonsale.com or call (877) 289-8245.


Or contact the Vail Plaza Hotel & Club at (877) 888-1540 or email reservations@vailplazahotel.com.


1 Comment on "Vail Plaza Club & Hotel offers enticing Valentine's special"