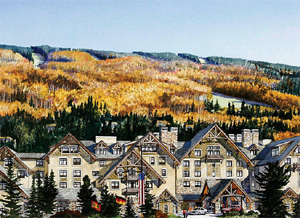 The Four Seasons Resort is scheduled to open in 2009 in Vail.

Economic downturn not a factor, says Four Seasons' Meier
By realvail.com
March 24, 2008 — The Four Seasons Residence Club Vail has sold just over a third of its residences in the past six months, prompting the company to state that the economic downturn is not affecting the Vail market.


"We're thriving in a unique micro-climate," said Jeff Meier, senior director of sales and marketing for Four Seasons Residence Club Vail. "As buyers visit the Vail Valley, they see the pace at which inventory is diminishing and are responding more quickly. We're still experiencing incredible demand, and buyers are responding well to our distinctive use plan."


Situated at the main entry to Vail Village, a short walk from the base of Vail Mountain, Four Seasons Resort Vail is only the third mountain property for Four Seasons resorts (the first and second are located in Jackson, Wyo. and Whistler, BC, respectively).

Scheduled to open in late 2009, the property features a 120-room resort, as well as limited real estate opportunities, including 16 private residences and 19 fractional residences sold at 1/12 interests; a total of 228 fractional interests are available for this project.


The fractional use plan for Four Seasons Residence Club Vail features a guaranteed prime ski vacation and a prime summer vacation. In addition, potential buyers have the ability to purchase consecutive calendar interests to allow for back-to-back vacations or even interests that coincide with each other. It's also possible to exchange to other diverse destinations within the Four Seasons Residence Clubs portfolio.


Meier also cited interest from the international market, including Mexico, Canada, and South America. "About 18% of our buyers have come from outside the United States," he said.


For further information on the Four Seasons Residence Club Vail, contact Jeff Meier at (877) 748-VAIL (8245) or visit www.fourseasons.com/ownvail.


1 Comment on "Economic downturn not a factor, says Four Seasons' Meier "