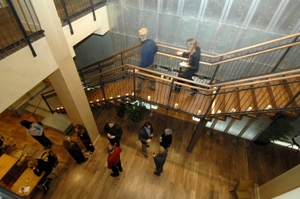 The dramatic new lobby of the Allegria Spa was part of a makeover for the entire Park Hyatt Beaver Creek last season.
Dan Davis
trekkerphoto.com
Park Hyatt Beaver Creek gets a bold new look
By David O. Williams
October 6, 2006 — It's hard to imagine a luxury hotel that underwent a complete room renovation just four years ago needing much of an upgrade, but that's exactly what the Park Hyatt Beaver Creek Resort and Spa embarked on in April of 2006 – answering the ever-escalating call for fresh finishes and amenities with an overall $20 million investment over the summer.


Guests last ski season immediately noticed the approximately $8 million spent on the hotel's common spaces, a bid to brighten and modernize lobbies, meeting rooms and lounges with new wall treatments, furnishings, art and carpeting. And about $10,000 per guest room was spent on touches ranging from new bathroom fixtures to more luxurious bedding to clock radios with iPod docking stations. Another $12 million has been pumped into the vastly expanded Allegria Spa (see related story).


All of this outlay comes in response to the growing demand by an increasingly discerning class of leisure traveler for the highest-end amenities in the best possible locations, and with several high-speed chairlifts literally steps from the back doors of the Hyatt, there has been no better location in Beaver Creek for the past 18 years.


Almost from its inception as a ski resort in 1980 Beaver Creek has been lauded as the model of all-inclusive, uber-luxe ski areas, but it took the Hyatt opening in 1989 to firmly launch Beaver Creek onto the global stage of destination resorts. Originally 301 guest rooms with no spa, the property has undergone several evolutionary stages since then, adding the Allegria Spa in 1998 and completely renovating its rooms in 2002.


But with more than a billion dollars in redevelopment underway as part of nearby Vail's "New Dawn" renaissance, including several new luxury hotels, the Hyatt's owners opted not to rest on their laurels this season, instead infusing capital into the crown jewel of Beaver Creek lodging with an eye toward making the experience more contemporary and energizing.


"It's all about the common spaces and amenities," says J. Scott Gubrud, director of sales and marketing, "and improving their size and quality." Such attention to the public areas has added an intimacy and exclusivity to the private spaces, further reducing the number of rooms from 274 to 190, which also includes 57 rooms over three floors that have been converted to 15 fractional-ownership residences.


Other common-area improvements include the opening up and leveling off of floors in Antler Hall - where a 750-pound chandelier of naturally shed elk and deer antlers is the centerpiece - which will provide more views of the ski slopes on Beaver Creek Mountain. And Whiskey Elk, the hotel's already inviting lounge, has become an even more welcoming après-ski spot with the addition of HDTV and billiard tables.


Hydro healing in the high, dry Rockies


The Park Hyatt is situated in stunning but arid surroundings where the alpine atmosphere and intense sun are perfect for playing in light, dry powder snow but a bit taxing on skin and muscles.


With that mind, the Allegria Spa at Park Hyatt Beaver Creek has undergone a $12 million expansion and renovation that doubles the facility's size – to 30,000 square feet over two floors instead of one – but only increases the number of treatment rooms from 21 to 23.


That's because the bulk of the improvements are in expanded locker rooms, a much larger reception area and a magnificent new water sanctuary that will act as an aquatic oasis to offset the high-alpine environment of the surrounding mountains.


"We're taking the space to the next generation and at the same time going back to the roots of spa," Allegria Spa general manager Gaye Steinke says of the more Euro-centric approach. "The roots of spa are water, and there are not many spas in Colorado that feature over-the-top water treatments and features."


The new sanctuary is set up to maximize the self-guided aqua sanitas (or healing waters) ritual, which begins with an herbal body wash in a warm shower, followed by a soothing dip in the warmth and sea salts of the coed Thermae - modeled after an ancient Roman bathhouse.


Then spa guests submerge themselves in the Caldarium pool and a relaxing wave of aromatherapy, followed by the Cascata, where a rainfall shower revives the senses, and finally the Tepidarium for a quiet moment of repose in a heated lounger.


The Allegria is maintaining its menu of treatments targeting highly active guests but added six new water-based treatments to utilize the improved facilities, which include couples suites and rooms equipped with Rain Showers and Swiss Showers.


"When you go to a spa in Europe it's still very much about the water," Steinke says. "That's still very much the European way, and Americans have always been more about hands-on treatment, so the new Allegria is a very good combination of the two."


The European influence carries over in the spa's aromatherapy, with Kneipp, a German company, consulting on the use of high-alpine flowers and herbs native to Colorado in the Allegria's baths, steam rooms and in some treatments. And the spirit of multi-culturalism continues with the Asian arts of Thai and Ashaitsu massage.


The adjacent pool deck and fitness area have also been expanded, with an additional 2,000 square feet that includes state-of-the-art Italian Kinesis equipment, which utilizes a cable-free, rotating pulley system for an intense and complete workout.


A separate yoga room, Pilates studio and poolside stretching space take in the surrounding peaks, as do many of the spa's treatment rooms, bucking the typical subterranean spa approach in favor of lighted, airy spaces and spectacular mountain views.


For more information, go to http://beavercreek.hyatt.com/hyatt/hotels/index.jsp or call (970) 949-1234.






Comment on "Park Hyatt Beaver Creek gets a bold new look" using the form below