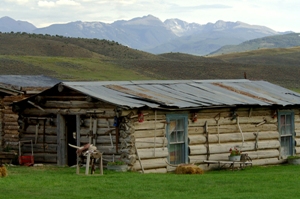 Scenic 4 Eagle Ranch four miles north of Wolcott in the Vail Valley has long been known as a great place to spend the day reliving the Wild West, but now guests can stay overnight in Tom's Tent.
Dan Davis
trekkerphoto.com
Historic 4 Eagle Ranch now offers overnight stays in Tom's Tent
By realvail.com
May 31, 2007 — For the past 16 years, visitors to the historic 4 Eagle Ranch in the heart of the Vail Valley have left the 1,000-acre spread with plenty of lasting memories but wishing they could stay awhile longer. This summer, for the first time, they can.


The valleyís best-kept secret, 4 Eagle Ranch, proudly announces Tomís Tent, the newest addition to the ranch providing an overnight opportunity for guests as well as a more intimate venue for smaller groups or parties.


Offering the valleyís premier authentic western setting for corporate events, weddings, reunions, and a host of daytime and evening activities for families, couples, and friends, it would be imprecise to call 4 Eagle just a dude ranch. Similarly, it would be an understatement to call Tomís Tent a mere campsite.


ďOur family has a special connection to the streamside setting for Tomís Tent; it has always been our favorite place to camp on the entire ranch,Ē says 4 Eagle owner and founder Tom Backhus. ďWeíre so happy we can share the site with our many friends and guests as our first-ever overnight offering.Ē


Tomís Tent comes equipped with all the amenities to ensure even the most novice camper a memorable, comfortable stay at 4 Eagle Ranch. Running water, a wood-burning stove, picnic table, plenty of comfortable seating, two king-sized air mattresses and a full-size futon all create a cozy ambiance inside the beautiful oversized tent.


Outside, the campsite is bisected by a babbling brook and shaded by massive cottonwood trees. Picnic tables, a private outhouse, steer-roping station, hammock, fire pit and jaw-dropping views of the snowcapped Sawatch Mountain Range provide guests of Tomís Tent with true feelings of comfort, inspiration and seclusion.


And yet Tomís Tent isnít all that far from civilization. Just a mile and a half down a U.S. Forest Service road from state highway 131, two and half miles from the main ranch complex and only four miles from Interstate 70 and all the hustle and recreational bustle of the Vail Valley, Tomís Tent is easily accessible but still a world apart.


ďWhere else in the state can you whitewater raft or fly fish on one of our world-class rivers during the day, or play a round of golf at one of our internationally renowned local courses, then in a few minutes be dining on our amazing western fare and camping under the stars at Tomís Tent that evening?Ē says Backhus.


Guests of Tomís Tent are encouraged to ride horses from 4 Eagleís main buildings - including the 1920 Carriage House and the circa-1890 Nelson Cabin - out to the campsite on a jaunt that can range anywhere from to 20 minutes to two and one half hours, depending on the adventurous spirit and desire of the guests.


But the road access means Tomís Tent is just as easily reached by one of the ranchís passenger vans - a perfect alternative for those guests who prefer not to ďrough itĒ too much. And the road and trail access also makes Tomís Tent a great destination for mountain bikers in the summer or snowmobilers in the winter.


To reserve Tomís Tent overnight, the cost is $350 for one to four people, and $50 per extra person up to six people. Campers are welcome to bring their own food to cook on one of two outdoor Weber grills or the indoor Coleman stove, or 4 Eagle Ranch will provide meals for an additional fee. Smaller corporate groups or parties of up to 20 may reserve Tomís Tent for a fee determined by the size of the group and meal requirements.


For more information, go to www.4eagleranch.com or call 970.926.3372.


Comment on "Historic 4 Eagle Ranch now offers overnight stays in Tom's Tent" using the form below