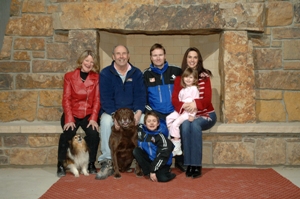 The Lazier family first moved to Vail in 1963, just one year after the ski area opened, and now own the recently remodeled Tivoli Lodge near Vail's Golden Peak area.
Dan Davis
trekkerphoto.com
Vail's founding Lazier family asks guests to rediscover a Vail classic
By realvail.com
September 14, 2006 — The old world met the new millennium in Vail in the fall of 2006 as the classically remade Tivoli Lodge at Vail reopened its doors after a total teardown and stunning rebuild over the past two years.


The Tivoli, among Vail's first great European-style lodges in the 1960s, was reinvented from the ground up as an ultra-modern model of boutique luxury but is still steeped in old-world charm and suffused with Tyrolean tradition, ambiance and hospitality.


"We are so proud of our hotel and all the people who helped make its second-coming a reality," said owner Bob Lazier, who built the first version with his wife Diane during Vail's first golden era. "We can't wait to show our guests what a difference 40 years of experience in the lodging business and a modern sensibility about amenities and décor can make."


The new-look Tivoli features 62 oversized guest rooms flush with pampering touches including down pillows, luxurious linens, massive soaking tubs, separate walk-in showers, flat-screen TVs, DVD players, mini-refrigerators and wireless Internet access.


But it was the level of service, caring and human touches that set the old Tivoli apart, and those traditions continue with the revamped lodge.


"This hotel is our home," said Diane Lazier. "We raised our family here and watched as Vail grew from humble beginnings to the top-rated ski resort in North America. Now we're so thrilled to see Vail being reinvented and to be a small part of that renaissance with our new lodge."


In a perfect place


Situated between the vibrant Vail Village, with all of its fine shopping and critically acclaimed restaurants, and Golden Peak, a bustling ski portal onto Vail Mountain, the Tivoli is arguably positioned in the ideal location. It's steps from all the action but removed enough to offer plenty of Rocky Mountain serenity.


The new Tivoli maximizes that location with rooms that offer magnificent mountain and Vail Village views, including the unprecedented grandeur of the Seibert Suite (named for Vail founder Peter Seibert), which surveys Vail Mountain and the soaring Gore Range.


Its new-look Euro-style architecture blending perfectly into the surrounding alpine environment, the Tivoli is replete with other amenities, including meeting rooms, a library, a fully-equipped fitness room, two outdoor hot tubs and underground parking and ski storage.


Guests can enjoy the sumptuous and complimentary "Tivoli" breakfast then make the short jaunt to Vail's famed Vista Bahn chairlift a block to the west or Golden Peak's Riva Bahn chairlift a little farther to the east. Or the nation's largest free shuttle bus service is mere steps from the lobby entrance on Hanson Ranch Road, providing quick and convenient access to points of interest throughout Vail.


The Tivoli's stunning new lobby, cozy and inviting with overstuffed chairs and leather sofas, serves up towering views of the ski mountain and the surrounding peaks. And its adjacent Brown Hound Lounge offers up a bountifully stocked bar and its signature Indini cocktail – inspired by hotel mascot Indy, the brown hound for whom the lounge is also named.


Depending on which member of the Lazier family you ask, Indy is named for either the silver screen's Indiana Jones or the Indianapolis 500, the legendary auto race won by Bob and Diane's oldest son, Buddy, in 1996. Both Buddy and younger brother Jacques still race in the Indy Car series.


A lasting family legacy


Bob and Diane Lazier first came to Vail on their honeymoon during a bitter cold snap in January of 1963 – the first ski season of Vail's existence. They were enticed by a brochure of the fledgling resort left by legendary Vail marketing guru Bob Parker in the Minneapolis ski shop where Bob Lazier worked.


The Lazier's honeymoon turned into a lifelong passion for each other and for Vail. They worked various lodging jobs at the Vail Village Inn those first few years, cleaning rooms, serving coffee, washing dishes, tending bar and listening to and learning from the builders who stopped in for drinks after work each evening.


In the tradition of the pioneering early days of Vail, the Laziers scraped together enough money to buy their first lot in Vail Village for $7,000, taking a chance and building an eight-until apartment. That led to a building a year for the next decade, including the Arcade Building in Vail Village, the Wedel Inn where the Sonnenalp now stands and the old Tivoli.


"It's been so fulfilling to see Vail grow from a sheep pasture with a few buildings and a couple of lifts to this world-famous and world class resort," said Bob Lazier. "To be part of the first great boom was so special, but now we get the chance to see our children and grandchildren be a part of the next great era in Vail history."


The Tivoli Lodge at Vail is located at 386 Hanson Ranch Rd. in Vail Village. Call (800) 451-4756 or (970) 476-5615 for reservations or more information; email reservations@tivolilodge.com, or go to www.tivolilodge.com.




1 Comment on "Vail's founding Lazier family asks guests to rediscover a Vail classic"