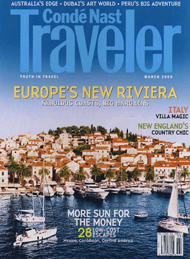 Condé Nast Traveler names Avon's Westin to 2009 'Hot List'
By realvail.com
April 17, 2009 — The Westin Riverfront Resort & Spa – Colorado's first "green" resort – recently announced it has been named to Condé Nast Traveler's "Hot List" for 2009.

The 13th annual Condé Nast Traveler "Hot List" – which they describe as the "definitive guide to the world's most exciting new establishments" - features 140 new hotels and resorts, 50 new restaurants, 35 new nightclubs and 50 new spas "whose design, service, and amenities transcend industry standards."

The Westin Riverfront Resort & Spa – which opened in September 2008 at the base of Beaver Creek Mountain - is one of only 34 U.S. resorts to be featured on this year's "Hot List." To view the complete "Hot List," please visit www.cntraveler.com/hotlist.

"We're thrilled to receive such a prestigious honor," said Westin Riverfront General Manager Bob Trotter. "We focus on delivering a unique guest experience that combines rejuvenation and wellness with exceptional service and stylish amenities. It's great to be recognized for doing something special."

Located on the banks of the Eagle River with magnificent views of Beaver Creek Mountain, The Westin Riverfront Resort & Spa is home to 210 spacious guest residences, all featuring a fireplace, The Westin Heavenly Bed, expansive windows, a custom kitchen and a large five-piece bathroom.

Amenities at The Westin Riverfront Resort & Spa include the 23,000 square foot Spa Anjali, which offers a complete menu of treatments focusing on healing mountain traditions, the Riverfront Club fitness center and Restaurant Avondale, Vail Valley's newest dining destination by acclaimed chef/owner Thomas Salamunovich.

Skiers (and bikers and hikers in the summer) can enjoy direct access to Beaver Creek Mountain via the Riverfront Express Gondola, along with a ski valet and an on-site rental shop. The dog-friendly resort also features a Westin Kids Club, Market Avondale, on-site bike rentals, an outdoor lap pool and three riverside hot tubs.

The Westin Riverfront Resort & Spa was built "green" from the bottom up and expects to become Colorado's first high-end hotel to achieve LEED certification from the U.S. Green Building Council.

Reservations can be made at (866) 949-1616 or by going to www.westin.com/riverfrontavon.



Comment on "Condé Nast Traveler names Avon's Westin to 2009 'Hot List'" using the form below